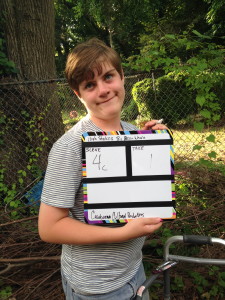 We could not be more excited about our next short film Eleventeen written and directed by our Youth Company Member Jared Taylor (pictured here being a Production Assistant for last years film shoot of High Stakes Written by Brian Weiser).
Based on his poem of the same name, Jared's short film humorously explores the fate of a world where a number like Eleventeen is allowed to exist. Principal photography starts Monday June 22nd and shoots on various dates and locations like the Allen Lane Train Station, The Mt. Airy Read and Eat, and The First Presbyterian Church in Germantown. We will also shoot an entire scene on a green screen! (This is a CCP Films first). Filming wraps up on July 9th.
Eleventeen stars Company Member Brian Weiser in multiple roles, as well as appearances by company members Jim Broyles, Eric Gershenow, Adrienne Cascarella, Samantha Simpson and Stephanie C Kernisan. Youth Company Members Halin Hegamyer-Gershenow, Lia Taylor, and Steven Lepore will also be featured in the film as well as many CCP newcomers!
We plan to screen this film in the Fall at the Read and Eat's little theater!
Stay tuned for more details and pics from the set!